Every Spring and Summer there are two international Buddhist festivals held at Manjushri Kadampa Meditation Centre in Ulverston, Cumbria, and another international festival held outside the UK in Autumn . These are taught by the General and Deputy Spiritual Directors of the NKT-IKBU.
Outside UK 2 – 8 October International Fall Festival, click here.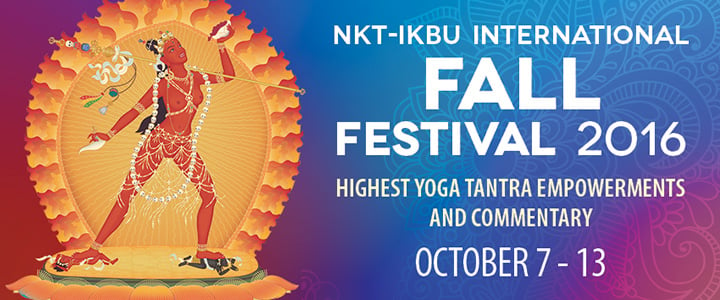 Many other events are held throughout the year in the UK. These include:
UK Dharma Celebration held at Tara KMC in Derbyshire at Easter time.
Southern England Dharma Celebration held in Brighton in February.
Northern England Dharma Celebration held at Madhyamaka KMC in September
Scottish Dharma Celebration held in Glasgow in April.
Irish Dharma Celebration held in November.
Welsh Dharma Celebration held in February.
This is a wonderful opportunity to experience modern Buddhism in action at an international level and enjoy an inspiring and meaningful spiritual retreat in a very special place. You will also meet and make some very special friends!
Buddhism for the Modern World
Introduced into contemporary society by the world-renowned Buddhist Master Venerable Geshe Kelsang Gyatso, modern Buddhism brings the ancient wisdom of Buddha into the modern world and shows us how to integrate Buddhist meditation and other practices into our busy lives, whatever our nationality, gender or age.
Through these practices we can discover a deep inner peace, overcome problems and difficulties with a happy mind and realize the full potential of our human life.
At this spiritual festival, you will receive teachings enjoy daily meditation with people from all over the world who share a common wish to improve their human nature and qualities through developing the capacity of their mind.
Meditation for world peace
Buddha taught that the main cause of world peace is inner peace – peace in the heart brought about through meditation.
Within modern Buddhism, this practice is regarded as a principal cause of world peace. The more people who learn it and put it into practice in their daily lives, the greater will be the prospect of peace in our world.